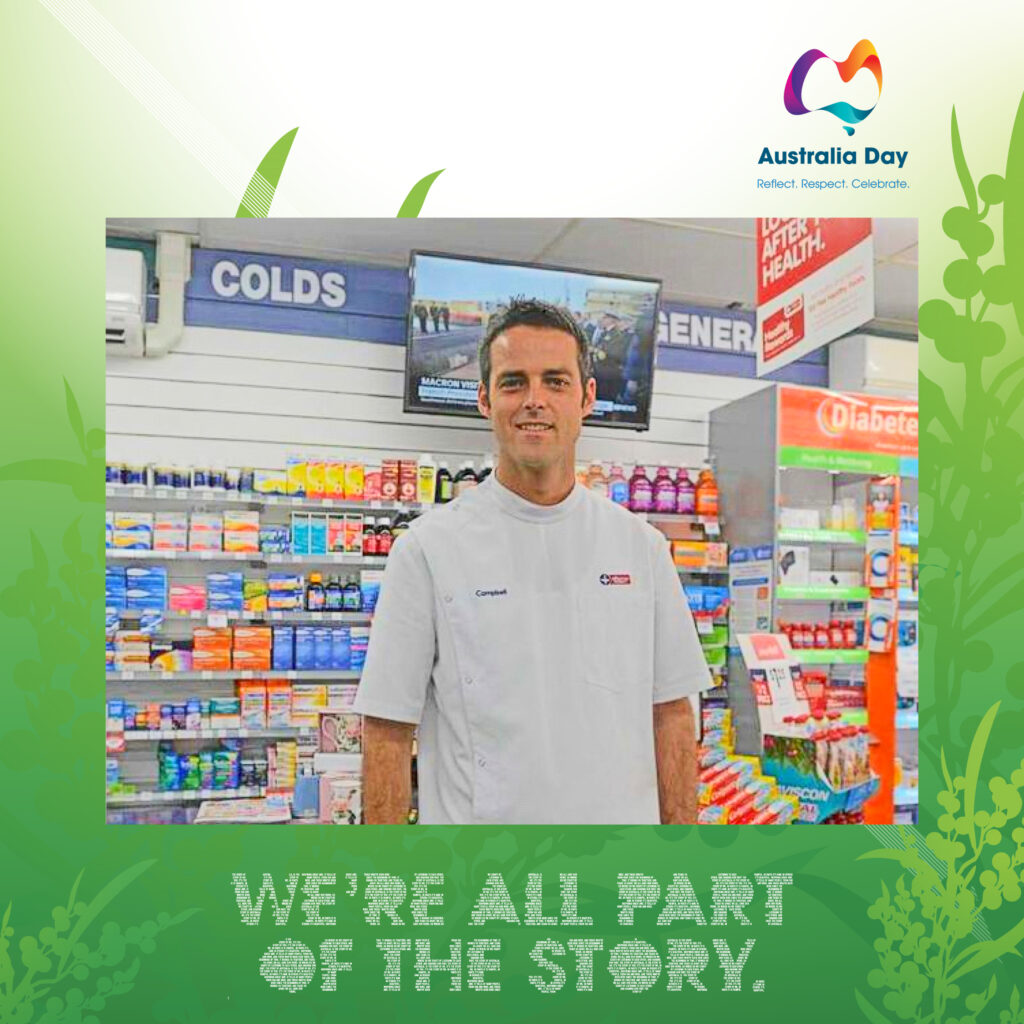 To mark Australia Day we asked Campbell to reflect on 2021 and tell us about his hopes for his community for 2022. 
I graduated in 2003 from Otago NZ. Pharmacy seemed like a logical fit for me though because I was good at chemistry math and physics and I liked the idea of working in health. I wanted a stable career with the ability to travel, to be able to help people directly and I loved the idea of ownership and being able to control and shape my own destiny.
My pharmacy is in Bargara, a small coastal community near Bundaberg. We are a rapidly growing community with mostly retirees moving to the area. We have all been attracted to Australia's most equitable climate and access to the southern Great Barrier Reef. We are home to the largest nesting site for loggerhead turtles in the Southern Hemisphere. 
"The region is also nicknamed the salad bowl of Australia due to the large amounts of fresh produce grown here including sweet potatoes, tomatoes, chillies, avocado, sugar cane, melons, and a whole lot more."
2021 was a pretty dramatic year for us. Like everyone else, we have dealt with the threat of lockdowns, stock shortages, and panic buying. In my infinite wisdom, I thought it would be a good idea to expand the store and undergo a refit at the same time. Alas, our 6-8 week project has not yet been completed 8 months later. All the while our store was seeing record numbers of scripts go through our temporary dispensary. I have been pretty frustrated with not being able to see my family for over two years due to border closures. One positive that I am proud of though is that after ten years living in Australia I am now an Australian citizen.
I'm really proud of our team how we have managed to hold it all together in spite of working in a construction zone for so long. We have managed to keep growing and being a great service to our community whilst rolling our new covid vaccination services.
"I hope that we can return to some form of normalcy this year. I hope that the panic and angst of the past two years will pass, borders will reopen fully and we can reconnect with friends and family no matter where they are."