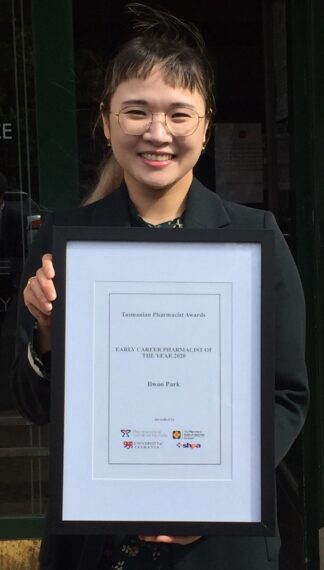 Posted on
Early Career Pharmacist of the Year 2020.
Pharmacy Alliance and Oatlands Pharmacy, Tasmania are celebrating the success of Ilwoo Park who recently claimed the Early Career Pharmacist of the Year Award 2020.
Hosted by the PSA, Pharmacy Guild, SHPA and the University of Tasmania, Ms Park received her award from PSA Tasmania Branch President Dr Ella van Tienen despite the official Tasmanian Pharmacy event being cancelled due to the pandemic.
Dr van Tienen described Ms Park as a highly motivated early-career pharmacist committed to her practice, patients, and profession. Her enthusiasm and professionalism were acknowledged – not only as a pharmacist, but also for her involvement within the local community as a volunteer Ambulance Officer and a member of the local Rotary Club.
Ms Park has worked at several pharmacies in Western Australia and Tasmania and is well known for being sent to support pharmacies get back on track and serve their local communities.
Pharmacy Alliance congratulates Ilwoo on her award and know that the future of our industry is in safe hands with pharmacists like.
We salute you as a local healthcare hero!
#bettertogether #independentpharmacy #localhealthmatters #healthcareheroes
Photo credit: Pharmaceutical Society of Australia